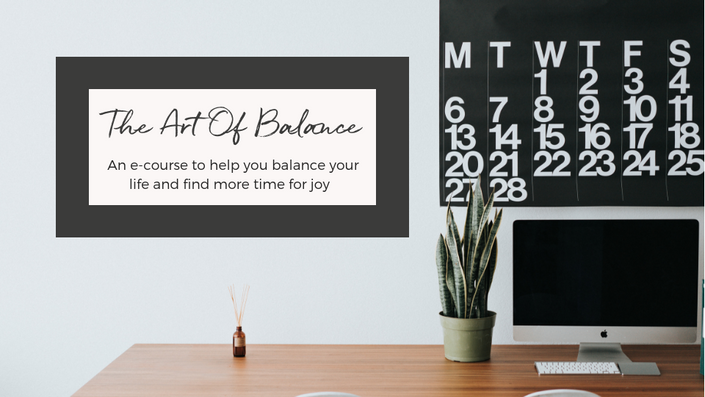 The Art Of Balance
An e-course to help you balance your life and find more time for joy
Course Curriculum
Week 1: What the hell does balance mean anyway?
Available in days
days after you enroll
Week 2: So tell me what you want, what you really, really want
Available in days
days after you enroll
Week 3: Ch-ch-ch-chaaaaaanges
Available in days
days after you enroll
Do you feel like there is never enough time in the day?
Do you feel overwhelmed when you look at your diary or think about everything you have to do?
Are you fed up of feeling exhausted and run down all the time?
Do you feel like you're always being pulled in a million different directions?
Do you struggle to switch off from life even when you're on holiday or spending time with friends?
Do you have some dreams or ambitions on your list that you can never find the time to work on?
This course is for you.
There's no denying that our lives are busier than ever. We're juggling careers and friends and families and side hustles and housework and hobbies and social commitments, all while trying to keep ourselves feeling healthy, both mentally and physically.
We're burning out and running on empty as we try to keep the many plates spinning. We're saying yes to things we don't want to do out of guilt and obligation, and pushing our own hopes and ambitions to the bottom of the list. We feel overwhelmed everytime we open our diaries, and we crave down time like it's some sort of luxurious treat.
Sound familiar? You're not alone. Trying to live a balanced life can sometimes feel a bit like trying to solve a Rubik's cube while walking backwards through treacle - stressful, messy, and more than a little bit frustrating.
But it's not impossible. And I know it's not because I've managed to achieve it in my own life. I was the person who felt like crying everytime I opened my diary. I was the person who would suggest a date 3 months in the future when mentioned catching up because I'd already agreed to a whole host of other plans. I was the person who couldn't find a spare 15 minutes to call my best friends because I was forever on the go.
I made the decision to take back control of my life about 18 months ago. I re-evaluated how I was spending my time and energy. I used some tools and techniques to help me prioritise the different areas of my life, and figured out what needed to change to make me happier. And I took action to get over the mindset blocks that kept popping up.
And I wanted to share my process. Because I know all too well that so many of us have been conditioned to accept that modern life means never feeling calm or grounded. I know that we're all tired of reading the same old cliched work-life balance tips, and feeling frustrated when they have no impact on our lives. I wanted you all to know that you can take back control of your own life, and start living it on your own terms. That you can achieve a sense of balance, and find more time for the things that bring you joy.
That's exactly what we'll do in this course. We'll walk through the four modules together, completing exercises that will help you to gain clarity on what is and isn't working for you right now, and start dreaming about how you'd really love your life to look. We'll create a plan to help you get there, and use some simple (but effective!) tools and techniques to help you cut out the crap and prioritise the good stuff.
So, if you ended 2018 feeling exhausted, stressed and totally burnt out, why not make a commitment to put yourself first in 2019? Let's work together to make those changes and build a more balanced life that will better serve you in every way. You deserve it.
What happens on this course?
The course is 4 weeks long and will start on the 7th of January. The modules will be released weekly, and there will be a lively and supportive Facebook community to help encourage and guide you through the process. And if you would like additional support, there's also the option to sign up for an hour of coaching and plenty of email support from me.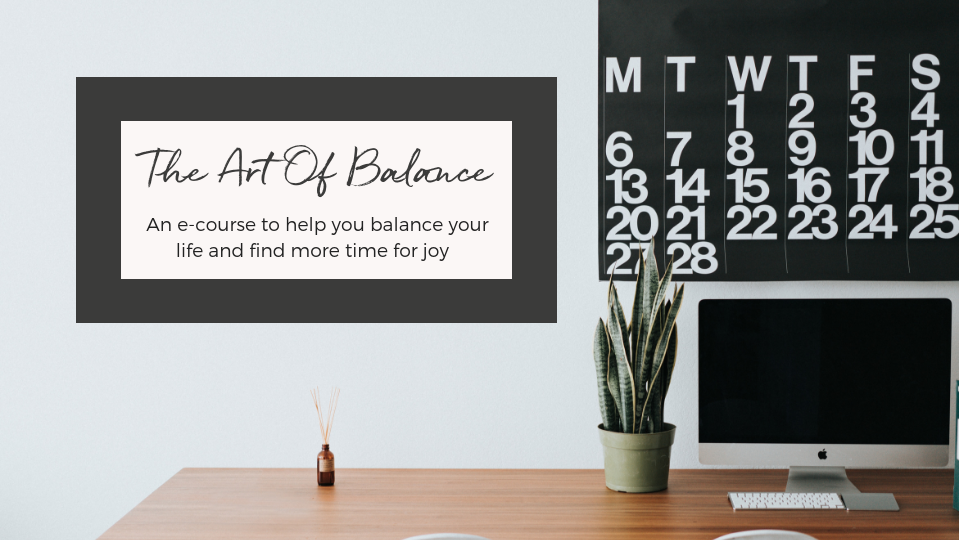 COURSE OUTLINE
WEEK 1 - What is balance anyway?
We'll start by challenging our assumptions around balance, identifying all the plates you're spinning right now, and getting clear on where your life is currently in and out of balance. This is an important first step, and hopefully you'll uncover some revelations about how you're currently spending your time.
WEEK 2 - So tell me what you want, what you really, really want
The fun bit - you'll start dreaming about what a balanced life would look like for you, and figure out how that differs to your current reality. We'll get clear on how you'd love to spend your days, weeks and months, and we'll start to set some goals to help you get there.
WEEK 3 - Ch-ch-ch-chaaaaaanges
We dig into the changes you'll need to make to achieve your own version of balance, and start to reevaluate your schedules and commitments. I'll share my four step process to help you cut the crap and focus on the good stuff, and we'll start to work towards that blissed out, balanced state of mind that you're craving.
WEEK 4 - Making it stick
In our final module, we'll deal with some of the mindset blocks that you might encounter along the way. We'll talk about setting boundaries, letting go of guilt, overcoming procrastination and learning to say no, plus I share some of my best productivity hacks to help you free up more time in your schedule.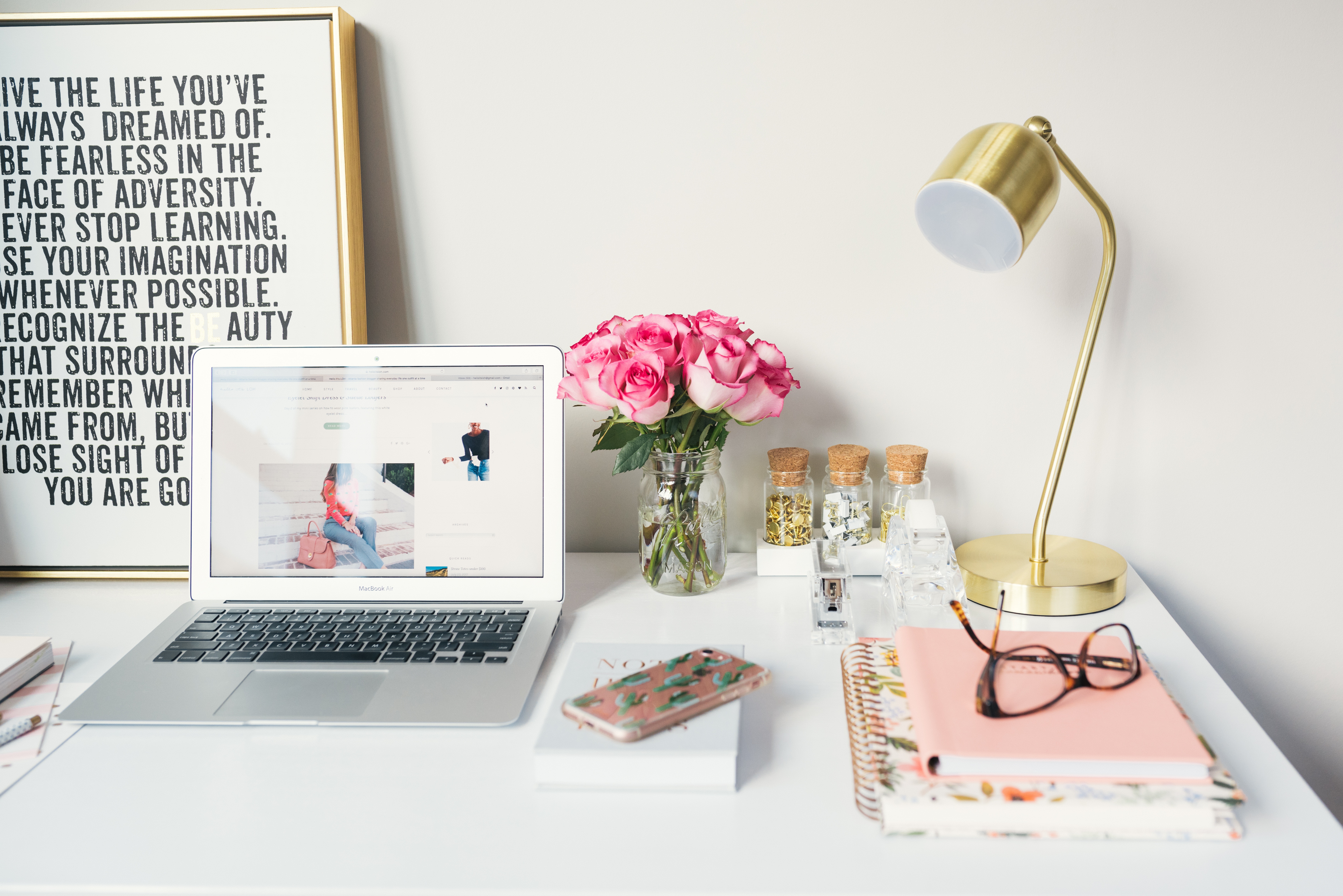 This course is for you if:
You're ready to take control of your own life and find more time for the things you love
You find yourself constantly burning out as you struggle to do everything
Your diary seems to be constantly full of commitments and plans
You want practical tools and techniques that can be personalised to your life, rather than a list of vague tips
You have a list of dreams and ambitions that you'd like to work on, but you never feel like you have the time
This course is closed for enrollment.
Frequently Asked Questions
When does the course start and finish?
The course will get started on Monday 7th January. A new module will be released every Monday, and once you have completed all 4 modules, you will have lifetime access to the course.
How long do I have access to the course?
How does lifetime access sound? After enrolling, you have unlimited access to this course for as long as you like - across any and all devices you own.
What if I am unhappy with the course?
I would never want you to be unhappy! If you are unsatisfied with your purchase, contact me in the first 30 days and we will give you a full refund.
How much time will this course take?
The course is 4 weeks long, and you will need 1-2 hours a week to read through the content and complete the exercises. If you're thinking "I don't have time for that!", you probably really need this course.
Your Instructor