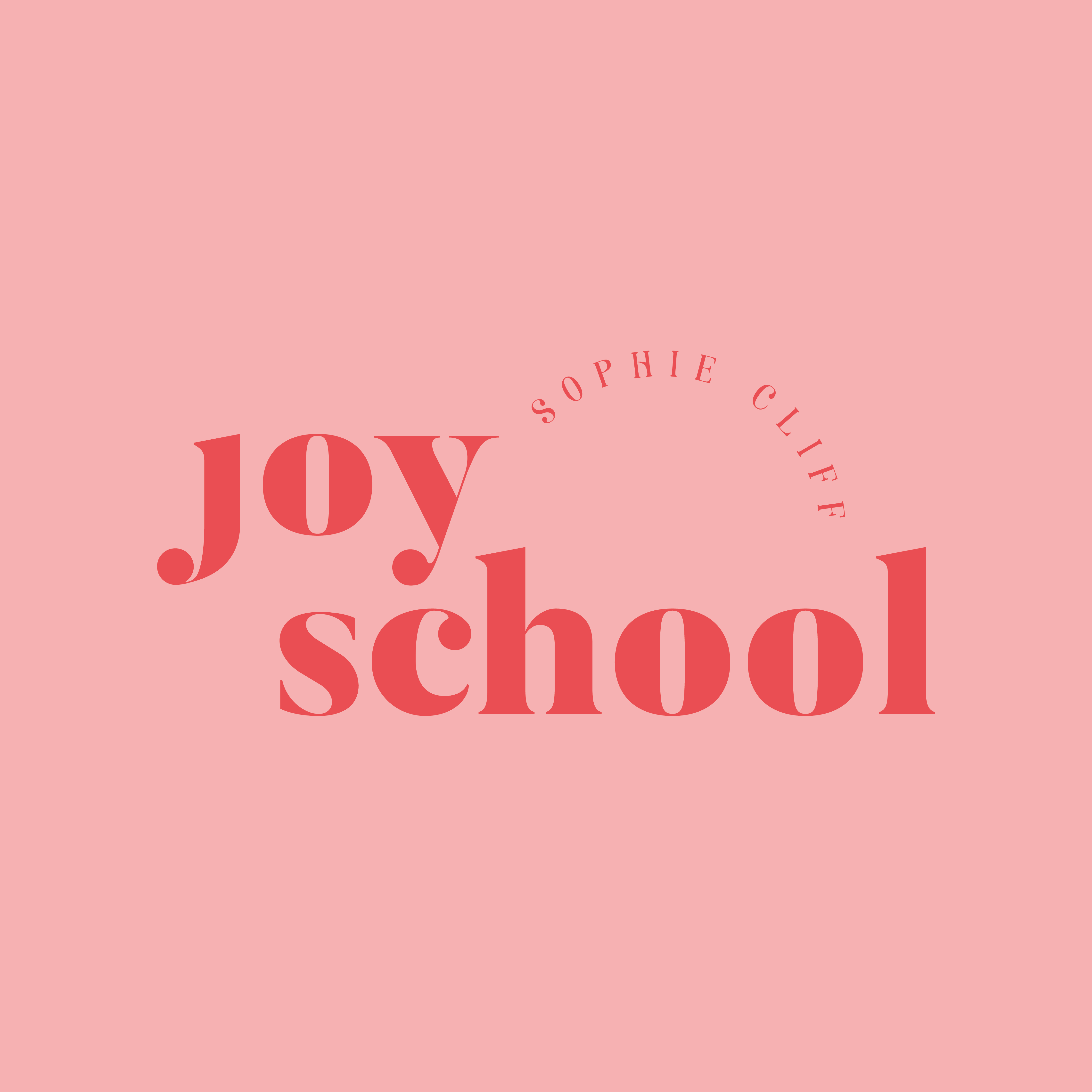 Sharpen your pencils, dig out your highlighters and get your favourite notebook at the ready - Joy School is here!
That's right, we're going back to school, but this time, instead of algebra and spelling tests, we're gonna have some serious fun.
We're going to reconnect with our inner joy. We're going to find magic in the teeniest, tiniest moments of life. We're going to shake off other people's expectations and start living our lives on our own terms. We're going to figure out what sets our souls on fire, and work out how we can do more of it every single day. We're going to learn how to let go of comparison, and we're going to raise our own vibrations.
We're going to commit to doing everything in our power to make our lives as joyful as possible. Because, this life? It's not a dress rehearsal. It's happening to us right here, right now, and I'll be damned if we don't get to squeeze every single drop of joy out of it while we're here.
Are you ready? Let's do this.

Joy School is an 8 week interactive class designed to help you reconnect with your inner joy and find more of it every damn day. Via written and audio lessons, live Q&As, actionable tasks and a supportive members only community, you'll learn how to break out of those negative thought patterns, let go of comparison and start feeling pretty damn awesome about your own life.
Who is Joy School for?
Joy School was designed with three types of people in mind:

1) The people who don't know what brings them joy
The first group of people who I made Joy School for are those people who don't know what brings them joy. I hear from these people all the time - I get DMs or emails telling me that they know they could be happier, but they haven't got a clue where to start with figuring out what brings them joy. They might be struggling to distinguish between what they think they should enjoy and what actually makes them happy, or perhaps they're struggling to put their finger on what joy actually feels like.
Joy School is jam packed full of exercises and tools to help these people figure out what joy means to them, and then set their lives up in a way that allows them to experience that joy every single day. It'll help them let go of other people's expectations, and start prioritising their own joy and happiness instead.
2) The people who know what brings them joy, but don't have enough of it in their lives
Perhaps you already know what brings you joy. Perhaps you're sitting there reading this with a whole list of activities or things that bring you joy running through your mind. Perhaps your problem is not in figuring out what brings you joy, but finding a way to make more time and space for it in your life. You're probably so busy running from one task to the next that you don't really have time to pause and think about finding joy in your day to day life, and so instead, you reserve it for weekends or holidays or Christmas.
Sound familiar? If so, Joy School is here to help. Not only will it remind you of just how important it is to find joy in each and every day, it'll also guide you through some practical tools and techniques in order to actually make that happen. Joy School will help you to cut through all of the noise in your busy life, and create more time, space and energy for the things that bring you joy.
3) The people who have all the makings of a happy life, but still don't feel joyful
The final group of people that I created Joy School for, are those that have all the makings of a happy life, but still struggle to feel joyful day to day. These are the people I hear from most regularly - they tell me about their great jobs and their beautiful homes and their gorgeous families, they tell me about how successful their life looks from the outside, and then they tell me how despite having everything they ever wanted, they still don't feel content.
If that sounds like you, I want to start by saying that there is absolutely no shame or guilt in that. It's incredibly common to feel this way, especially in the society we live in today. But I also want to assure you that you don't have to go on feeling that way. It's completely possible for you to reconnect with your joy and find more of it everyday, and Joy School will show you how. Whether you're lacking purpose and direction, or simply need to shift some of the mindset blocks that are keeping your from feeling content, the theories, tasks and exercises laid out in Joy School will help you to unpick what's really going on, so that you can start to appreciate all of the fab stuff you already have in your life.

Course Outline
Week One - What is joy?
We'll start by figuring out what the hell joy is. We'll learn about the difference between joy and happiness, chat about why joy is so important to our lives, and delve into some of the reasons why we resist joy. We'll round off the module by exploring what joy means to you and writing our own joy manifestos.
Week Two - Gratitude
In week two we'll explore the link between joy and gratitude, look at some of the scientific evidence that supports the positive impacts of gratitude, before spending some time developing a gratitude practice that works for you.
Week Three - Defining your own version of success
In week thre we'll learn about the scientific formula for happiness (yep, that's a real thing!), look at why we're sometimes left with a joy gap, and learn about how shaking off other people's expectations can help us to close that gap. We'll then spend some time saying goodbye to the traditional path and defining our own versions of success.
Week Four - Finding your purpose
in week four we'll look at why purpose is so important for a joyful life, and how it can give us the direction and clarity we all crave. We'll also work through some exercises to help you discover your own purpose, and explore how acting with purpose can help you to live a more intentional life.
Week Five - BREAK
During week five we'll take a break from new content. This will enable you to catch up with everything we've covered so far, complete any outstanding exercises, and reflect on what you've already learned.
Week Six - Letting go of comparison
We all know that comparison is the thief of joy, but have you ever stopped to figure out why? That's exactly what we'll do in this module. We'll also look at some practical tips to help you let go of comparison, and work through some exercises that will help you to build your self esteem.
Week Seven - Spreading joy
In week seven we'll explore the benefits of spreading joy and how it can benefit both you and the world around you. We'll also look at the importance of meaningful relationships, and how we can cultivate them.
Week Eight - Continuing your joy journey
We'll round off the course by looking at how we can continue our joy journeys when Joy School is over. We'll review our progress so far, commit to some long term habits, and explore some tips that can help you to stay joyful during difficult times.
What you'll learn:
The importance of joy and how it differs from happiness
What joy means to you
How gratitude impacts your joy
How to develop a gratitude practice that you can stick to
The formula for happiness and how to apply it to your life
The importance of defining your own version of success and how to do it
The reasons why comparison steals your joy
How to let go of comparison and build your own self esteem
The benefits of sharing your joy with others
The importance of meaningful relationships and how to cultivate them
How to create joyful habits that last
Practical tips to help you find joy during difficult times
What you get:
8 weeks of carefully structured modules compromising over 20 well researched written lessons
An audio download (like a mini podcast!) of each lesson so you can learn on the go
Access to 3 live Q&A webinars with me (these will be recorded so that you can replay at an time) where we'll have the opportunity to delve deeper into the course contents
Weekly exercises and tasks to keep you moving forwards
Downloads, printables and mini workbooks to help you apply the learnings to your own life
Access to a members only community where you can share learnings, discuss ideas and connect with other course members
Support from me throughout the duration of the course via email
Lifetime access to the course content and all future versions of Joy School
This course is closed for enrollment.
Frequently Asked Questions
When does Joy School start?
Enrolment for Joy School is open until midnight on Friday 31st January. The first module will go live on Monday 3rd February and will run for 8 weeks (7 weeks of classes with a catch up week half way through).
Who is this course for?
Anyone who feels like they could benefit from more joy in their day to day lives.
How much time do I need to dedicate to Joy School?
You'll need 1-2 hours a week to read or listen to the course materials and complete the weekly tasks and exercises.
How is the course delivered?
The weekly modules are delivered by Teachable, which is an easy to use online teaching platform. The members only community will exist in a private Facebook group.
I have a question that's not covered here.